Thursday, April 28, 2005
your travel and adventure and good eatin' guides are back! on tuesday, my cousin karl took us for a drive. we went to visit his house. he has a cool sofa that you sit on unsuspectingly, until he flips a little lever and you're lying back in a state of zen-like la-z-boy-ness!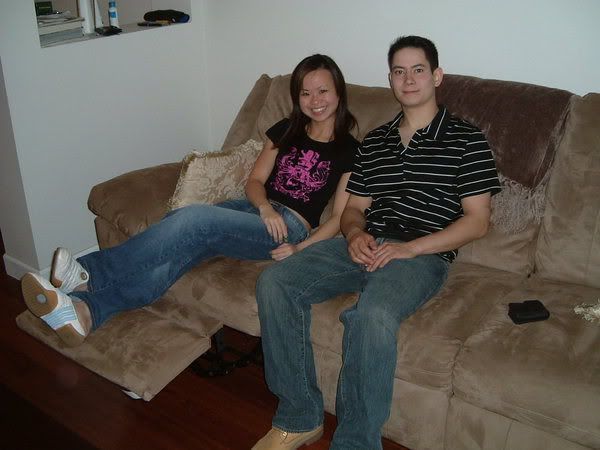 relaxing at karl's house. it took a lot to get me out of that chair.
we went to eat vietnamese Pho for lunch, and we sat next to a sign that said "no smoking" which had a ashtray underneath it. vietnamese make good Pho, but they have screwy logic.
then karl took us for a drive down South Street, which is the bohemian strip. on friday nights, cars pile up on the street and traffic stops so that people in the cars can check people out on the sidewalk. we were going to go there on friday night to check out people checking other people out, but we decided to go watch hitchhiker's guide to the galaxy at the bridge theatre instead. anyway karl works at the Copa Banana bar and restaurant where he mixes drinks and thus is the sole cause of the large amount of vomit in the copa bathrooms at the end of the night. he took us shopping at a bunch of vintage stores and thrift stores, where carol scored a pair of BCBG jeans for US$18! so the girl who ate too many doughnuts and grew out of those BCBGs, IN YOUR FACE! ha ha!
we drove along the Schuykill River, where we looked at half naked joggers exposing their torsos to the elements. we also looked at all the boathouses, where the rich high schools and colleges keep their rowboats for training. we saw lots of little boys rowing themselves around the river, while some lazy guy sat at the front of the boat yelling things like "row, you little maggots! put your back into it, you lazy landlubbers!" if i was on the rowing team, i would want to be that guy. after that we went to the yuppie district of manayunk and wound up at Pottery Barn relaxing on their ten thousand dollar sofa sets.
the schuykill river, where brave pasty private school boys row their boats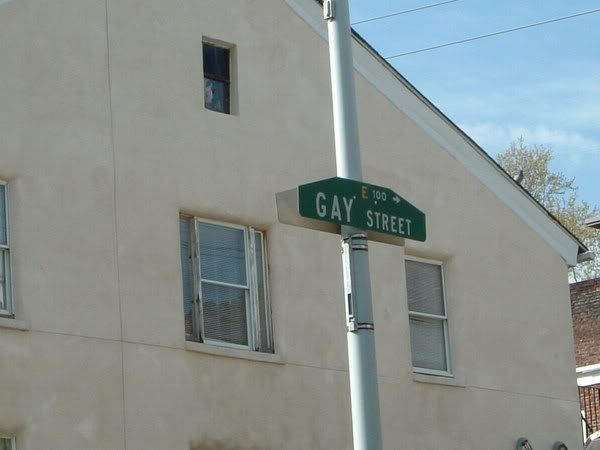 a very ho-yay street in manayunk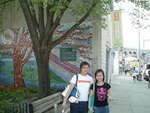 me and carol in front of a mirror mural (one of many murals around philly) in manayunk
we went to pick up karl's girlfriend, vanna, at the chiropractor's office where she works. we chatted to doctor lee, and then vanna let us have a go on the therapeutic waterbed which feels bizzarely like a person with very violent fingers prodding your back! i kind of like it! carol got on the bed first and when it started up she started giggling uncontrollably like a happy tree friend and scared the crap out of the patient who was waiting to get prodded by the waterbed next.
on wednesday we went with kim and her friend robert to the salvador dali show at the philadelphia art museum. we discovered that salvador dali is an eccentric dead guy with two skinny moustaches who draws art full of grasshoppers and ants and phallic looking objects, and he thinks that if he has sex he will die. i feel absolutely educated now. it was a good show though, but they only had audioguides for a few paintings, and we were left to fend for ourselves for the remaining paintings and had to figure out what the decomposing donkeys stood for in all those pictures. eventually i gave up and i will now pretend that the decomposing donkeys represent man's eternal struggle against evil penguins, communism and the lack of gladwrap.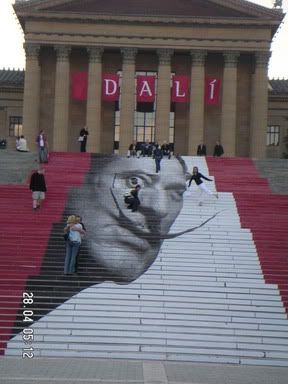 outside the philadelphia museum. that is carol trying to pick salvador dali's nose and i am trying to balance on one of his pointy moustaches.
on friday kim took us to the philly zoo! at first i thought it would be a scary zoo with the bears trying to mug me and the marmosets trying to beat me up with a pair of brass knuckles because the zoo was in the middle of the ghetto. but it was a great zoo! in singapore, the zoo is great too, but they put the animals miles and miles away from you because apparently having humans wave in their faces every day is detrimental to the sanity of the elephants. but here, the elephants are close enough that you could get your hand bitten off by one if you had particularly long arms, and their sanity is threatened by many kids waving in close proximity!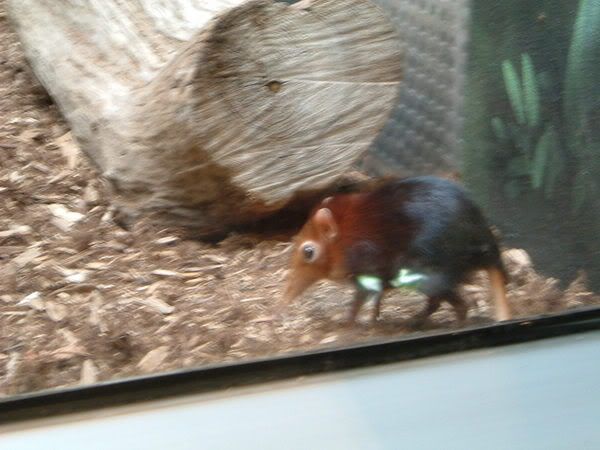 the elephant shrew, who uses his cute little nose like a finger to dig through leaf litter and to poke other elephant shrews
kim took us to try some of philadelphia's speciality foods. we had philadelphia cheese steaks at Gino's, a famous neon-lit joint in south philly. cheese steaks are my friend.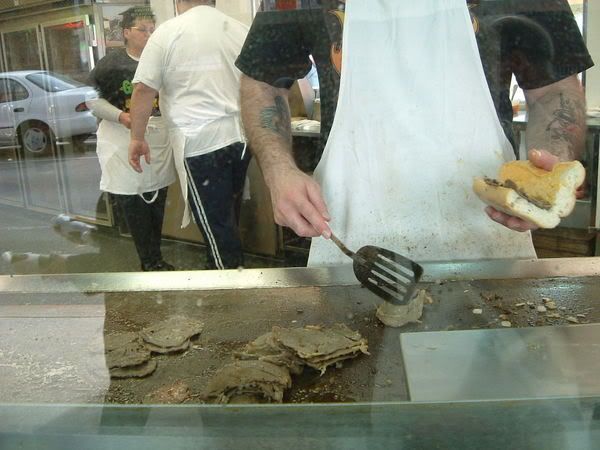 a Gino's guy preparing the food of the very obese gods.
and then we had water ice at rita's, which is blended ice like a slurpee, but it's tastier and smoother.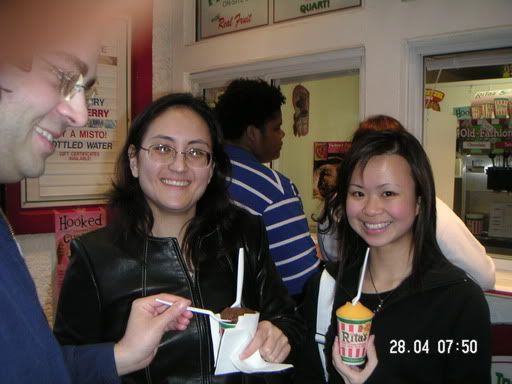 chocolate and mango water ices
we are just back from the Kelly Clarkson concert at The Tower theatre! kim got us tickets in the fourth row, and for the first time i could actually see everything! being an honest (read : stupid) person (read : idiot), i obeyed the ushers and didn't bring my camera with me into the theatre. and i now have no photos of Kelly Clarkson giving a kickass concert to show you. there were some large girls in front of me who were taking photos with their camera. they probably hid it between their bosoms during bag check. it was a good concert and i had fun being one with the screaming elementary school kids. i discovered that there was not one unmarried straight man in that audience. everyone without two X chromosomes in the theatre was either a dad, or unabashedly queer. the Graham Colton Band opened for kelly, and Graham is deliciously sethly! we could have taken photos with him, but i had no camera and i forgot to bring my handphone! the Graham Colton Band did a great cover of 'champagne supernova' by oasis. she sang 'piece of my heart' by janis joplin which was very cool, and did a very bizzare fast-tempo remix of 'a moment like this'. it was an eye opener to go to a concert in america. i have developed terror in my heart when i see groups of white teenage girls. they scream at just about everything! when the lights went off onstage, they screamed. when the tech guy came out to adjust the amps, they screamed. i think the tech guy must have suffered a minor heart attack. there were some interesting people in the audience, and it was pretty disconcerting to hear a big fat guy with tattoos and a trucker cap and a satan beard screaming "oh my god kelly i love you!"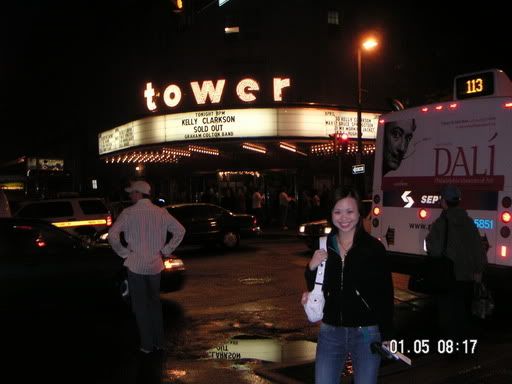 right before i enter the zone of screaming high schoolers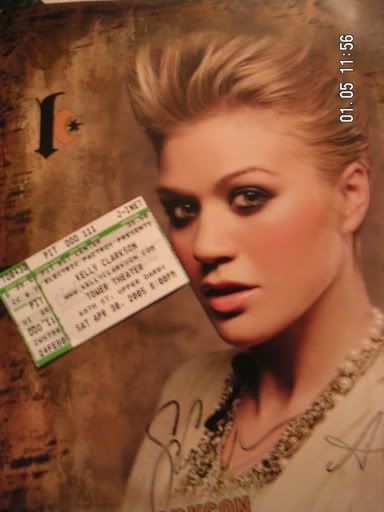 my fourth row ticket and my souvenir program signed by the Graham Colton Band
it's been a great week and we are completely worn out. i'm so happy i got to see kelly clarkson, although i wish i was younger so i could get more excited about the concert. now i am an old wrinkled dessicated specimen who can't beat a six year old to the front of the stage to get an autograph. it's 3am and i am going to pass out now. nighty night!
| mando | 9:03 AM

-------------------
Saturday, April 23, 2005
we are now in police custody due to this photo taken by brilliant manny who has never seen a US flag before that she had to go take in the customs area that say no photos allowed.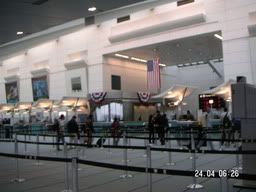 actually we are sitting cozily in a guest room in my aunt's house trying to work out whose disposable underwear is whose while our hair dries so we can go to sleep.
this is carol and manda, reporting live from the bustling metropolis of Lansdowne, Pennsylvania. if by bustling metropolis you mean a herd of ducks crossing the road in the dead of midnight. my aunt lives in a little suburb called Lansdowne, which is just a short subway ride away from Philadelphia. she and my cousin kim picked us up from the airport and drove us out to a pizza dinner, and on the way we have discovered Krispy Kreme, Dunkin Donuts, and Cold Stone Creamery. we could practically see little halos of holy light radiating from the restaurants, bathing us with their calorie-laden glow.
at the airport, the moment i told the customs dude that i was visiting relatives in philadelphia, he started fixing me with Rottweilerish looks and going, "so, are you planning to study in the united states? huh? are you? are you? huh?" and when i told him i was already going to college in singapore, he morphed back into normal human visage and was all, "oh, that's all right then! that's fantastic! i hope you have a pleasant stay! enjoy your visit! toodle oo!"
on the plane, we discovered the joys of executive economy, which gave me more leg room than i knew what to do with. i could have easily fit an entire illegal immigrant into my extra leg room, but the long-legged carol was still all squashed up in her seat. they had a ton of movies, so maybe they were anticipating a lot of attention deficit passengers. i watched the spongebob squarepants movie, a very long engagement, CSI, Will and Grace, The Motorcycle Diaries and Les Choristes before the pilot decided to end my fun by landing the plane.
on the second day, tua ee (my aunt) and kim took us grocery shopping at the local shopping strip. but first we went to the IHOP (the international house of pancakes) for breakfast. i had a rooty tooty fresh and fruity pancake set, which got me bacon, sausage, two sunny side up eggs, and strawberry topped pancakes. carol had the stuffed french toast with sweet cream cheese and blueberry topping.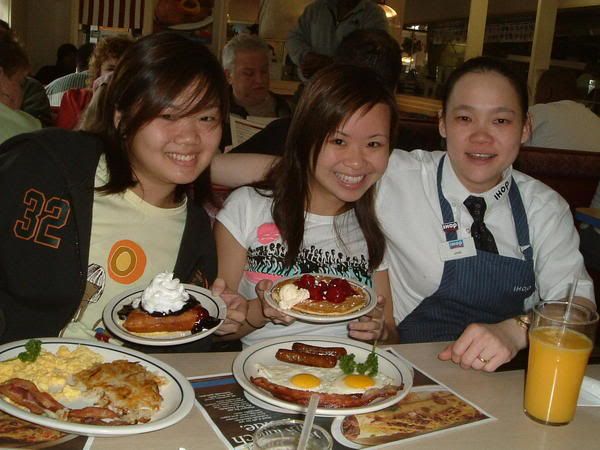 IHOPpers carol and me and our friendly waitress!
after that we went to the local BJ's, which is a horrible sounding name for a place where you can buy food in ginormous packagings. they have boxes of 40 chocolate bars and 30 packets of M&M's, and now i understand why the american housewives that we saw shopping there were the size that they were. i saw bags of chips that were bigger than i was! carol took one look at the boxes of chocolate i bought and went straight into a diabetic coma.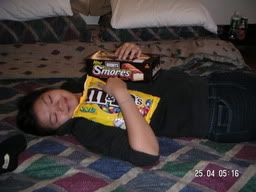 we hit target, and then we went to the mecca, the holy land, the vatican city of Lancaster : the local Krispy Kreme. they were having a little kids party in there and they made a new batch of doughnuts for them so they could see the little doughnut dudes taking a refreshing shower in The Waterfall of Glaze (tm). nobody does a Waterfall of Glaze like Krispy Kreme.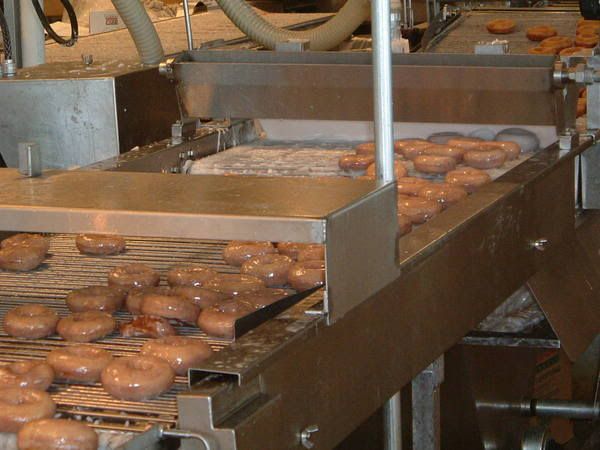 "i hereby baptise you in the name of Krispiness. now go out and feed the hungry."
we went to home depot to pick some plants up for my aunt, and she's going to put two of us out in the field to work so we can plant her some petunias! we had to earn our pancakes somehow.
day three was today! we took the subway to philadelphia with my aunt so we could go to the national historic park. we had breakfast at Reading Terminal Market, which is an indoor food and produce market. we each ordered huge portions which we couldn't finish, and waddled off full of eggs and coffee to the liberty bell! we had to waddle also because we were bundled up like little dumplings against the freak spring weather. this morning it was 9 degrees celcius and my nose was in great peril.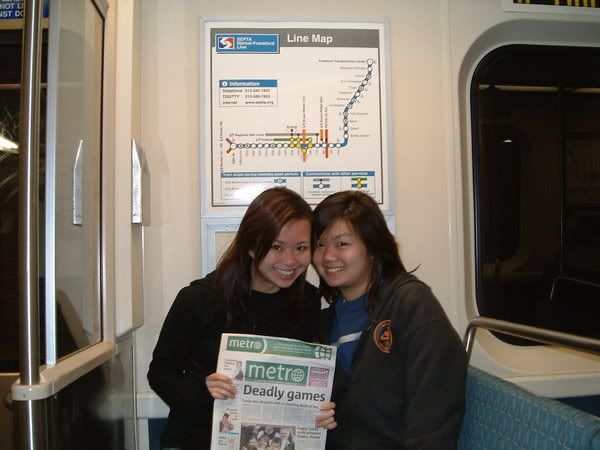 being touristy on the subway. i am holding up Philly's free daily newspaper.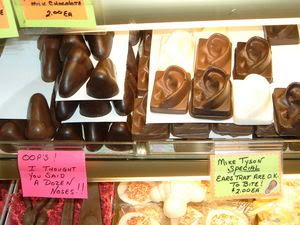 i wouldn't mind getting a dozen chocolate noses for valentines day!
we went to the liberty bell center, where we encountered no tourists at all! we had the big cracked bell all to ourselves, and we discovered that the crack wasn't made by rampaging dinosaurs campaigning for jurassic freedom, or a weary president tripping and falling and hitting his head on the bell. it was made by some guy who was trying to fix a little crack and made a big crack instead. the bell met its ultimate doom on george washington's birthday party when they tried to play the birthday song for him, and the big crack got even bigger. but it is one of the few cracks more famous than the one on britney spears' ass, so don't feel too sorry for it.
after that we took a tour at the independence hall, and we followed around a school group led by a guy dressed like Mr Quaker of Quaker Oatmeal in his little high socks and his samosa hat. we went to the supreme court of the united states, and the guide there gave us a little one on one info speech. she was moving her mouth excessively, and carol thought that it was because she thought we were deaf, and i thought it was because we were asian. we compromised and became deaf asians for her benefit. she was very nice and informative, and we took a picture of "the bar" for huixian the future barrister so we can show it to her on the day she finally hops over it!
we went to the National Constitution Centre where WE THE PEOPLE watched a dramatic presentation of how the Constitution was written. WE THE PEOPLE thought it was really funny and WE THE PEOPLE felt really sorry for the passionate actor who was presenting the history of america to us like it was 2 Fast 2 Furious. WE THE PEOPLE went up to play with the interactive exhibits, and CAROL THE PERSON played president for two minutes and appeared on a big tv screen discussing world issues with Dick Cheney. i put on a big black robe and pretended alternately to be harry potter and a congressman. i think if i were a congressman, i would establish free doughnut day.
after we learnt more about slavery and abraham lincoln and cesar chavez, we went back to the visitor's center where we met a guy dressed funnily. and the rule of thumb is, when faced with funnily dressed people, take a picture with them. the funnily dressed man tried to charm us with his colonial ways, and he said that "time spent with a beautiful lady is always time well spent". we swooned momentarily, but were ultimately not down with his high socks!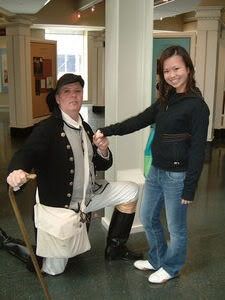 i will keep the updates coming as long as the neighbour does not realise that we are tapping into his wireless account.
| mando | 10:12 PM

-------------------
Friday, April 22, 2005
yesterday was the most kickass day! it was liana's birthday and we went to eat the curry of mr muthu! mr muthu's picture hangs proudly on the wall, shining his radiance upon all who enjoy the eyeball of the fish. it's a really nice restaurant, with great decor. our table had plates lined by little banana leaves on them, and also what appeared to be little spittoons. we have not yet figured out what the little spittoons are for, because the opening is way too small to aim a good loogie into. more visits to the shrine of mr muthu are in order to unravel this secret.
daniel and dehan were telling us really appetising stories about how once upon a time in the land of singapura, some dude got killed and cooked in a curry, and the dude's name is apparently muthu. shortly after we were served by a nice indian waiter, whose name was stalin. needless to say, i felt very calm and unthreatened for the rest of the meal.
after that we went to isaac's house to feast on the tiramisu that lynn the baker made for the three birthdayers! to celebrate the fact that it is the middle of april, the tiramisu had two reindeer and a santa claus on it. liana got a cake in the face and started attacking the wayne wildlife photographer who was capturing the heartwarming cake in face moments on camera! liana-gone-wild started smashing cake in isaac's face, and dehan fled to hide behind a large pile of isaac's cushions. after that we played with isaac's stick insects and watched russell peters talk about why brown people and yellow people cannot do business together!
then we hopped over to lynn's house to play with her hamsters! note to all pet owners : do not let zhongyang be alone with your little ones. flee. flee i tell you! butters the hamster was so scared of zhongyang he peed in his little hamster ball and will now have to undergo many years of hamster therapy to erase this fateful day from his memory.
tomorrow me and caroline will be sitting in a little metal cigar and wiping hot towels all over our bodies and playing obscene amounts of mario and yoshi while making the life changing decisions of whether we will have the chicken or fish. see you guys in three weeks!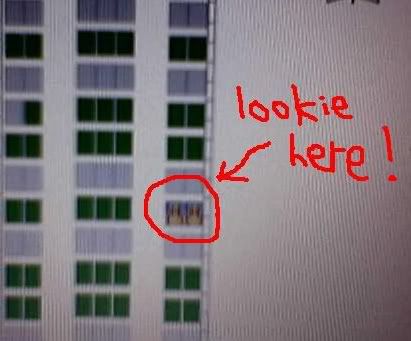 eighteen hours of being in mid-stratosphere surrounded by crying babies, here we come!
| mando | 7:13 AM

-------------------
Wednesday, April 20, 2005
yesterday me and carol had a lazy morning sitting around starbucks in cushy armchairs like lazy heiresses planning the high-calorie pilgrimage. we managed to get duped into booking a new york hostel which seduced us into staying there because of its great location. unfortunately that great location came with the overwhelming odor of cat piss, a sea of human feces in the bathrooms, and rats and roaches fighting an everlasting battle with each other on the floors, beds, and toilet seats of the entire hostel. the lesson for today kids, is to read the reviews on
tripadvisor.com
before agreeing to spend five days in new york in the equivalent of a fear factor bug challenge tank. thanks jiayan for offering to squeeze us both into her little dorm room! we may invade kwokland if we decide against having a tete-a-tete with the roaches!
but we are not sad about the cheaterbug hostel. because we have tickets to the kelly clarkson concert! my amazing cousin kim bought them off ebay for us, and we are very proud of the fact that we are going to be the oldest teenyboppers at the concert. my cousin elizabeth went to see a Hanson concert the last time she was in philadelphia, so i'm glad we're at least one up on her in terms of maturity.
the other day we had a class party and we finally saw miss hor for the first time in a gazillion years! after catching a ride from friendly neighbour ngoh, we got to ghim's house to do some catching up! ghim made us low-fat nyonya kueh brownies which were actually not bad! i tell no lies, ghim! stepf made us gorgeous cookies, yucai brought double-boiled chicken wings, bang brought egg sandwiches, jasper brought marine parade prata, i brought macaroni salad, and shawn brought a nice big fat juicy watermelon! this is starting to sound like a social column. i will now describe to you miss kitty's turquoise chiffon dress which she bought specially for the event. anyway we had a nice time talking and eating and playing cards and destroying ghim's bouncy chair.
i am going to eat muthu's curry now to celebrate liana, isaac, and bert's birthdays! there is nothing like some fish heads and some naans to mark the day you become elderly. happy birthday leona, mantits and angelman!
| mando | 8:03 PM

-------------------
Thursday, April 14, 2005
yesterday, lynn liana and me wore our NETS cards very thin at far east plaza. we must have spent the annual income of a small third world country in the span of four hours. for four hours, we were a tasmanian devil trio of whirling shopping bags, and shopkeepers frolicked to the gay ch-chingging of their cash registers! everyone found things that they looked like hot hot tamales in! i would not be surprised to find lynn and liana bouncing around joyfully in their new skirts and necklaces on the cover of next month's seventeen! since caroline insists that the lynn liana and me are clones who attack innocent shopping grounds like far east plaza, we are going to exchange clothes so that we can expand our wardrobe without doing further damage to our wallet. here is a picture of me and lynn gloating over the spoils of our plunder, which i shamelessly stole from
lynn's blog
since i didn't have a camera (thanks lynn). i am shorter than lynn is, so you can only see what appears to be my left eye.
i drown in a sea of capitalism. lynn is happy about the sea.
we also visited the chicken rice uncle, who used to serve up a storm at the Cafe de Tongla, but has now gone independent and has set up his very own eating establishment, called Sunny de Boneless Chicken Rice. and de boneless it is indeed!
after that we headed down to chinatown to meet jasper and dehan and ventured forth to the most sacred and holy of all crayfish hor fun stalls. but the most sacred and holy of all crayfish hor fun stalls was closed. i almost broke down and cried, but managed to hold myself together while journeyed forth slightly more sweatily to the famous chinatown food centre and had ourselves a little feast! we had michael jacksons (a first for lynn), wo tib, chwee kueh, and claypot chicken rice! when i asked jasper the gourmet what was good eatin' at chinatown, he informed me that there was the famous chwee kueh, the famous claypot, the famous chee cheong fun, the famous chicken toenails, the famous crab eyeballs, the famous turkey tailfeathers.. everything in chinatown seems to be famous. i think we have way too many food variety shows for our own good. we are running out of unknown food stalls. soon we will have the famous super rings from the famous mamak stall being featured on makansutra.
someone had the brilliant idea of playing the number guessing game to finish all the salted fish when we could have just fed it to the little boy who conned us into buying tissues from him with his charming eyes. somehow dehan who has the highest blood pressure among us ended up eating two enormous chunks of salted fish while the girls ended up having dainty bites.
the next stop on our gastronomic adventure was the friendly coconut juice uncle! we had a refreshing coconut each while watching the cirque du soleil kids do handstands on a teetering pile of golden nuggets. i secretly pretended i was steph on survivor having a refreshing coconut before i breezily lopped off the head of a passing shark and built a shelter using only a handful of sand and the tail of an armadillo.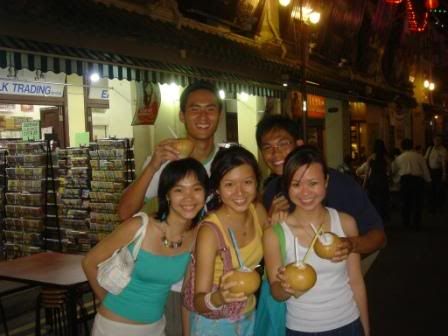 aw, nuts!
(do you see liana's spanking new necklace? DO YOU SEE?)
on the way to the mrt station, after turning off kadayanallur st in the heart of chinatown, we saw a little old lady pushing a ginormous trolley full of enough cardboard boxes to construct a metropolis-sized shanty, and she was pushing it right into the glaring headlights of oncoming traffic! being the good hearted auntie-killer that he is, jasper decided to walk in the middle of the road and try to help her push her trolley to a place where she wouldn't get rammed down by rogue comfort cabs. but the auntie appeared to be a bit worried that jasper would scuttle off with her mountain of cardboard boxes, and just kept plodding on into oncoming traffic. i wonder where she is going with all those boxes. maybe she's on a cross-country cardboard box derby. i feel pretty worried at the thought of her pushing her trolley on the highways while people on scramblers veer into beemers to avoid her.
tomorrow caroline is coming to my house and invading lamland so we can drool over the websites of all the food we are going to eat, and plan our high calorie pilgrimage! i am not allowed to call it USAdventure anymore, because if i do carol will wag her finger at me. i haven't experienced the finger wag yet, but i imagine it to be extremely annoying.
| mando | 10:20 AM

-------------------
Sunday, April 10, 2005
planning for a holiday in a big city is disgustingly frustrating.
i would hack off my left leg and personally feed it to Jimmy Fallon (but he probably wouldn't like that) to watch Saturday Night Live. but being the kind of person who gets off at the wrong floor multiple times in a single elevator trip, and the kind of person who asks someone how long he's been suffering from a congenital disease, i can't figure out how to get my dirty yellow hands on some tickets. i would also sacrifice several other body parts to get to watch Monty Python's Spamalot, and Wicked, and The Producers, but i can't figure out which of the fifteen billion online ticket agencies won't abscond to a cavern in nepal, and use my money to buy a herdful of yak.
oh lordy! i have just discovered that Monty Python tickets cost about US$375 each! even my left leg isn't worth half that much! i have just gotten an encouraging message that keeps flashing across one of the ticket agency web sites that says 'there is no ticket in the whole wide world that money can't buy as long as you're willing to pay for it!' i need divine intervention. jiayan this means you! i call upon the spirits of all pseudo-native new yorkers to help me book broadway tickets! my left leg is yours if you so desire.
and if anyone has ever been to new york, please tell me what to do when we get there! with the small amount of brain i possess, i am liable to stand like a deer in headlights in the middle of times square and get barrelled into by a cambodian taxi driver. so far i am planning on heading to Serendipity, the giant ToysRus, Dylan's Candy Bar, Pomme Frites and The Metropolitan Museum of Art.
i have suddenly been buried until a truckful of anvils worth of concert frustration.
kelly clarkson is playing a stadium near pennsylvania, but she appears to have one ticket left per seating area.
after i have spent five years waiting for her to return, lea salonga my favourite snooty filipino finally decides to give singapore face and come back with her american accent and do one glorious concert. one day after i fly off to america.
how come getting seats to a musical was so easy in london? all we had to do was queue up outside one of the friendly six discount ticket booths and bam! we had good nosebleed seats to watch indians dance and miserable people suffer and three men play every imaginable shakespearean character wearing ugly wigs!
anyway i have spent the three consecutive days after exams leaping around with kids and singing worship songs. the soles of my feet have been completely worn off and i am nursing my stumps as best as i can. despite the loss of my feet, i feel on fire to go forth and reap the harvest for God! i love Pastor Jack Hanes.
now that the G12 conference is over, i can start rubbing my hands together and planning my long string of hedonistic activities for the holidays! after i get over the shock of being old and being unable to jump around for a mere twenty minutes, i am going to go shopping and eat muthu's curry with lynn and company, plot how to sneak into the saturday night live headquarters with caroline, try to get a job with renjun the tofu goldfish and company, and eat a lot of catching-up dinners and gain obscene amounts of weight. i love the holidays.
| mando | 5:06 AM

-------------------
Wednesday, April 06, 2005
exams are all over! for the past three days we experienced the sheer joy and delight of being herded into the multipurpose sports hall (which since it was also used for the judo gradings, has the sole purpose of housing procedures involving pain) to take long, bladder-wringing exam papers! today, all burdens were removed from our longsuffering bladders!
before the exam started today, caroline and me made our usual run to the toilet only to be faced with the dragon at the gate of the castle, the ferocious toilet cleaning auntie! normally, toilet cleaning aunties are docile people who keep their mops to themselves and occasionally tell you stories about their ungrateful children for ten minutes. this toilet auntie was like a hose-wielding, soap-flinging, urinal-hygiene obsessed tornado! no pesky students were going to stand in her way of keeping the toilet paper dispensers filled! so anyway while we were in the cubicle, the toilet auntie soaked us knees down with soapy water and made us take the exam with our toes all slimy.
had a nice lunch with isaac, zhongyang, daniel, wayne, lynn and liana at thai express where we were served by chinese and indian waiters and surrounded by caucasian patrons. it was like the UN, only with more olive rice. we made plans for the holidays, like go to rome and see people cry over the poor pope, which should make for a totally non-depressing holiday, and go to isaac's house and hang his collection of stick insects all over our clothes!
and i am pleased to announce that caroline and me are going to philadelphia! we were deciding what to call our amazingly awesome trip, and i suggested giving it the totally creative name of USAdventure! unfortunately carol does not like this very innovative nickname and so we're probably going to call it the carol and amanda high-calorie pilgrimage to whitecastle and krispykreme. expect us to return looking like a couple of human donuts. i hope we can fit into the airplane seats on our return flight.
| mando | 9:34 AM

-------------------
Friday, April 01, 2005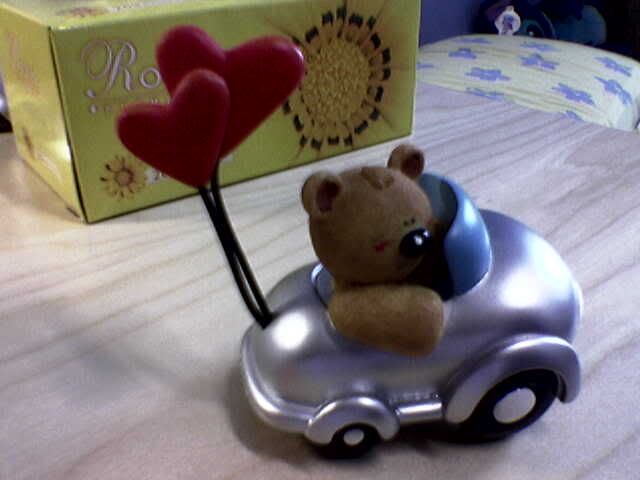 paperweight bear goes for a drive!
paperweight bear drives past the tissue box, feeling the wind in his fur.
what will i see today, wonders paperweight bear.
evidently not his impending doom.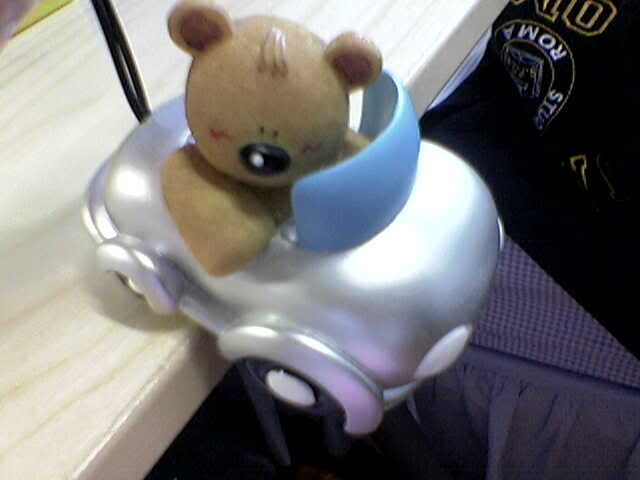 paperweight bear takes a tumble off the study table!
paperweight bear meets his gruesome demise, and drives off to nirvana to seek out his maker. (RussTM)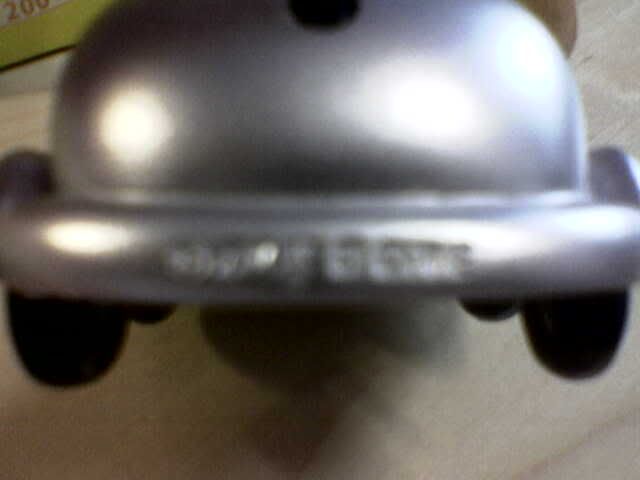 for the sake of the local gambling industry, i provide paperweight bear's license plate number for the buying of toto and 4D.
upon touching winning numbers, please make your offerings at the shrine of paperweights, happy house photo frames, and other plaster of paris objects.
| mando | 3:34 AM

-------------------