Friday, January 28, 2005
because nothing has appeared in this space for so long, a lot of nosey people like gwenda have been wondering what i have been up to for the past two weeks. just to please you, i will say that i have been tandem bungee jumping off the swiss alps strapped to a fleshy cow, and frolicking in the magical land of narnia with my own personal army of oompa loompas. i hope you are now pleased, because i put in oompa loompas in, and oompa loompas are such crowd-pleasers!
actually what i have been doing is going salsa dancing with zhongyang, jasper, lynn, jian yang, jianbang and teresa! jasper and jianbang discovered this glowing establishment by picking up a flyer. and this flyer advertising a beginner's salsa class was firmly stapled to another flyer advertising a kama sutra sex therapy class. i feel very safe in the professional hands of our dance teacher! anyway at my first lesson, i learned how to walk backwards and forwards and spin around without falling over. we are obviously progressing at the speed of light and will be winning international latin dance competitions in no time! anyway everyone dances very gracefully, especially zhongyang my smooth partner who manages to do quick turns while making casual conservation with tall women who pounce on him whenever there is a partner change!
and renjun/tauhuay teo decided to let us invade his house and had a fantastic steamboat dinner! these boys are very good cooks! anyway he let us explore his own private zoo, which houses a bunch of friendly koi, three ginormous turtles, two chickens, two dogs, and a jambu tree. this ecosystem appears to be thriving because none of the animals are eating each other. instead, renjun's dogs creep furtively into the house while people are busily shooting goals on the xbox and eat all the steamboat yongtaufoo. the solution to peaceful coexistence is yongtaufoo. who would've thunk it? anyway we made the very intelligent decision to eat a steamboat on a table with a lot of holes in it. this made dishing dripping fishballs into your bowl a very painful affair, but they were still good fishballs. unfortunately dickson decided to drop a taupok into the soup with reckless abandon and some stuff splashed out and i now have a very interesting golden mushroom-shaped burn on my leg. after that we had a good karaoke session and polished off three bottles of nice wine and i went home and left the drunken lonely boys to their own devices.
and we also had a hastily arranged but highly successful farewell dinner for the people who are escaping our blazing hot island to study in another blazing hot island in the pleasurable company of kangaroos and summer flies, xingning and gen! they are going to be studying in melbourne and sydney respectively, which means that they will be separated by the blue mountain ranges. i think they are planning to make romantic hikes over the blue mountains during the holidays to meet each other at the mountaintop and do some quality yodeling. i will miss them with all my heart and various other internal organs. without gen, who will tell me about sightings of giant hamsters at the night safari and share the joy of hello panda (hello!) with me? without xingning, who will study with me at the airport over an earful of josh groban and a salmon pasta while playing bhai si mi sek?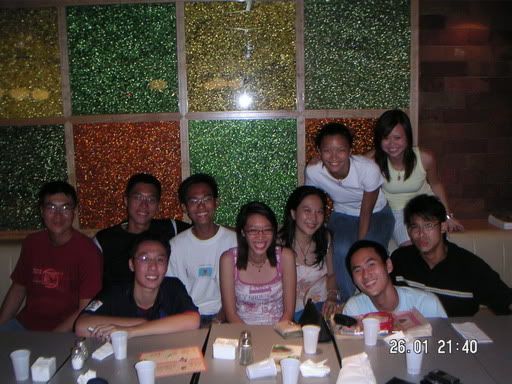 everyone and the goodbye girls. jasper looks very sad because they are leaving and because he didn't get to say hello to jamie teo at breeks.
| mando | 5:50 AM

-------------------
Monday, January 17, 2005
melbourne photos
are up!
| mando | 5:13 AM

-------------------
Saturday, January 15, 2005
it has been a long time since the last post. this is because i have been shoving chocolate and macadamia nuts and fudge into my mouth two-fistedly and when my two fists are so engaged it is hard to type without making a big sugary mess of my keyboard.
anyway i'm back from melbourne! i am pleased to say that i saw not one, not two, but three unidentifiable small animals mashed into a bloody pulp on the road! i am living the australian dream baby! me and my mom had a nice time of mother-daughterly bonding, which for some reason or another involves eating a lot of cheese-filled food and then returning to the hotel room complaining that we are fat. ahh, the joy of being women.
melbourne is a cute little sleepy city that supposedly has a lot of shopping. unfortunately this is not true after the boxing day sale when most of the vulture-like women of the town have swooped down upon all the nice clothes, leaving me with racks and racks full of muumuus and camisoles that look like lampshades. luckily we were saved by the marvellous bridge road, which has little factory outlet stores which stretch down the road to eternity and beyond! and they all had bloody huge sales! (evidence below)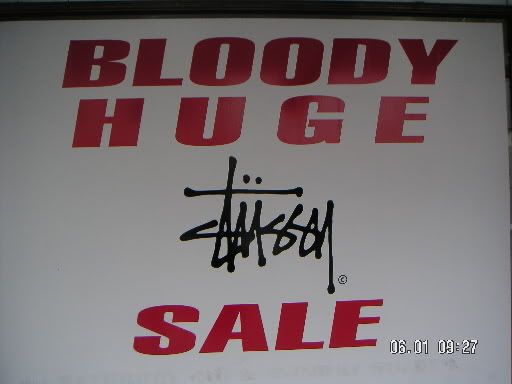 told you so.
all the shopkeepers are unbelievably friendly. and they remain friendly even at the end of mindnumbing 12-hour shifts of scanning and tagging bath mittens and candy-coloured underpants. everything you pick out from a shelf, they'll pass behind you casually like a shopping spectre and say "oh, you're getting those slippers? beautiful!" even when you're at a cafe and you ask for a glass of milk, they'll go "oh, a glass of milk? beautiful!" i swear these people are on something, and i want to know what it is so i can take it in vast quantities and walk around dazzling people with my enthusiasm and bright chocolate-smeared smile. you end up being very enthusiastic along with the cashiers and whole heart-to-heart conversations can be held at checkout counters. it was the most marvellous shopping experience ever!
we went to the gaslight market at queen victoria market to drink some beer and eat some fish and chips and some utterly unchewable falafels. i wanted to eat some crocodile, but by the time i found the crocodile meat stall i had eaten enough to feed a horde of orcs and my stomach was sticking out a mile as if i was gestating a couple of twin fetuses. we saw a good band called Vena Cava play live, and i'll be damned if the singer wasn't exactly like seth! i sat there for an hour watching him sing and being completely mesmerised by his sethly hand movements. when the sun went down, pseudoseth and his band were replaced by 3 scantily clad girls twirling fire. the levels of humidity in the area shot up as the men in the audience commenced heavy drooling. the fire twirlers were pretty good, although i think one of them burnt her partner on the shoulderblade. me and my mom were astounded by the toughness of the scantily-clad girls with asbestos shoulders.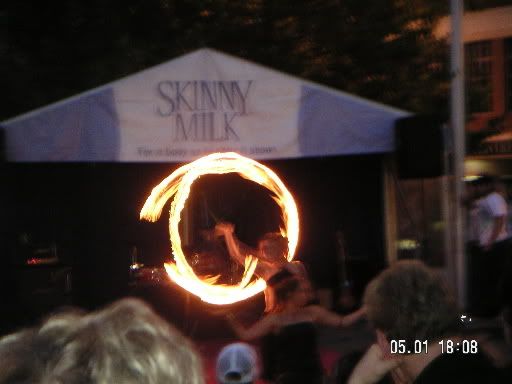 "i am woman! i twirl fire! i wear few clothes in freezing night air! i burn friend!"
everything in melbourne is served in intimidating portions. one plate of gnocchi (pictured below) is enough to send a cow spiraling into years of life-threatening obesity. but daymn it is good. brunswick street is really good for lunch and beer and cake, but terrible for clothes. they say it's bohemian, and by bohemian, they really mean "far east plaza goods sold at chanel prices". i had no idea bohemian people were so wealthy. i always thought they lived on communes and each person lived off the goods produced by their own personal sheep.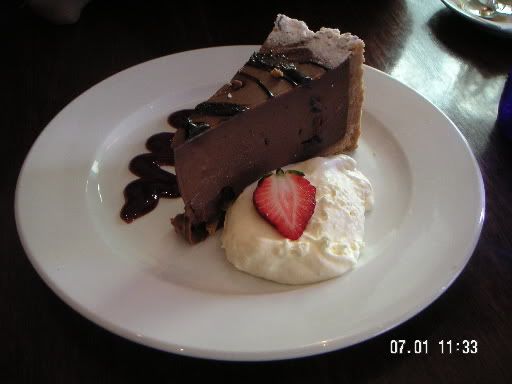 the principle cause of love handles (gnocchi and my artistic shot of toblerone cheesecake)
and we decided to book a tour on the great ocean road. and indeed the road was great and oceany. it's amazing to drive along a little road carved out of a hillside and have one of the greatest coastlines on earth roll past you. our friendly mr tour guide told us to try and spot the koala, and for about a kilometre or two i couldn't spot any little balls of fluff sitting in any trees. in the end i stopped trying to play the impossible game of australian where's wally and just started hoping that the rumble of traffic would rattle some koalas out of their trees and they would fall onto the road like ripened apples. eventually some guy with sharp eyes saw one and all thirty of us piled out of the bus and gathered around a eucalyptus tree to look at the furry rear end of a single attention-seeking koala who happened to be asleep. seriously, who has ever seen a koala awake?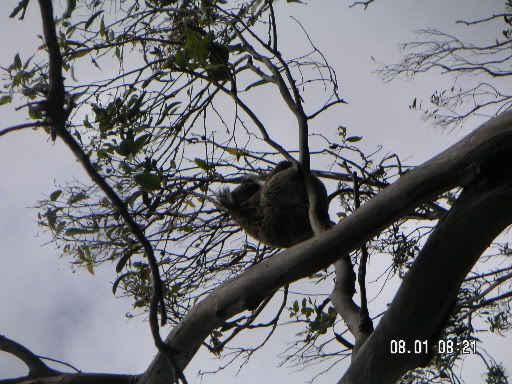 y'all came here for little old me? why i'm honored! i realzzzzzzzzzz"
disturbing our magnificent views of the 12 apostles were an enormous swarm of summer flies. it was impossible to smile really big for photos because a fly would use that opportunity to go on an intrepid expedition and explore between your teeth. those black dots you see on people's faces in their vacation photos? those aren't moles. even when you escaped into the bus, a bunch of flies would follow you and i had to kill them all on behalf of everyone on the bus. we continued our drive along the coastline sitting contentedly among the fly carcasses.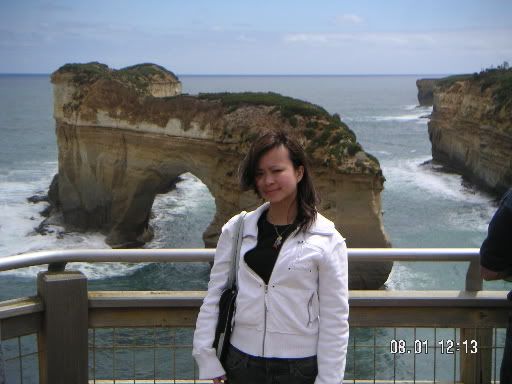 raise your hand if you like geography!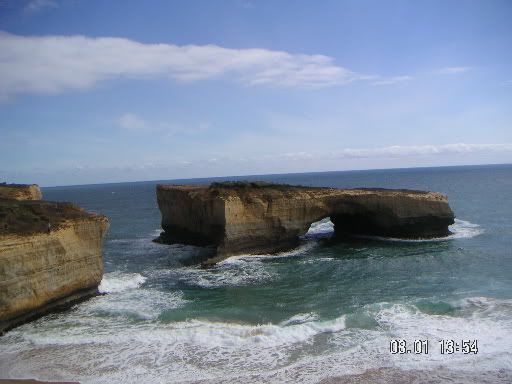 a little slice of australia
many macadamia nuts later, me and my mom are at home wishing we were still in melbourne, the land of opportunity. it is a land in which there is the opportunity to eat a lot and get fat, get run over by a tram, and buy coin pouches made of kangaroo scrotums. i'm going to miss it.
| mando | 4:39 PM

-------------------
Sunday, January 02, 2005
happy new year everybody! may this year be a year filled with love, joy, peace, harmony and no more newsworthy natural disasters! let there be so few notable bad happenings that the 9 o clock news will be forced to broadcast turtle racing as their primetime segment!
anyway we spent new year's eve at ghim's house (thanks ghim!) reminiscing about the good old days when the guys outraged the modesty of ghim's big wombat doll and the inexplicable carpeted hump cemented to his bedroom floor. nobody had a really accurate clock, and we were all too lazy to go turn on the tv to look at the time by raymond weil. so we were all waiting around for ghim's neighbours to start yelling and cheering and dunking themselves into large vats of beer so that we'd know when it was 2005. at 12.05 we realised that there was no yelling or dunking, and we realised that the neighbours were all waiting for us to start yelling and dunking too! i am guessing that nobody is making "take initiative" a new year's resolution. this year, i decided to make all my new year's resolutions things that i could actually keep. i thus resolve to continue to be abysmal at dancing and to not throw raw potatoes at pigeons. i think this is going to be a very successful new year!
tomorrow i'm leaving for melbourne, supposedly to enjoy the tropical sunshine and come back the colour of a freshly-cooked lobster after five days. but now the weather report says that temperatures in melbourne are going to be reaching sweltering highs of 21 degrees! in summer! if i wear the kind of clothes i have packed i will probably come back missing several fingers and possibly some other extremities! pah! i will just raise a defiant blue fingerless fist at the cold grey melbourne skies and tell them that i am going to have a good holiday anyway! send me hail and rain and cold winter winds and i will still shop at markets and get bitten by rabied possums in the park and run over small bush animals on the great ocean road! see you all soon!
| mando | 5:50 PM

-------------------