Saturday, May 28, 2005
yesterday night i went with zhongyang, gillian and renjun to xenbar to experience the tight-shirted teachings of dickson the dance teacher! i was almost dancing with the potted plants next to the wall mirror because the place was so crowded. but it was fun even though i screwed up most of the steps, and i got to see the pair of human tops that are otherwise known as jian yang and agnes! zhongyang wasn't kidding when he said that they are many many levels above everyone else. they are about sixty four million empire state buildings stacked on top of each other above everyone else. guru jianyang gave me an intensive basic lesson after class in exchange for a bunch of chocolate bars, but i still have all the grace and elegance of a herd of rampaging hippopotami! actually i think i am doing pretty well for a person who has trouble distinguishing left from right. i was actually improving in my left and right differentiation skills after six months worth of driving lessons, but then anatomy came into the picture and screwed me all up again. poor gillian suffered the impaled foot that comes along free with every open salsa class. i think a prerequisite for taking salsa should be iron-plated toes.
today i am going to brave the great singapore sale with michelle! it's already the second week of the sale, so i shouldn't bring out the spiked umbrella anymore. i think the large hatpin will do fine. the spiked umbrella i will save for when they open the doors to the mango sale.
| mando | 8:40 PM

-------------------
Wednesday, May 25, 2005
it is time for a long overdue new york post!
the weather report for our new york weekend had rainy mcshittyweather written all over it. kim was talking to candice, the divine provider of our shelter, online. i think her exact words were, "you guys are driving down today? you do know that it is absolutely shitty down here, right?" nevertheless, we braved a long, drizzly, bladder-wringing ride down into manhattan. because it was a rainy new york evening, the time taken for traffic into the city to move half an inch was about the same time it takes a glacier to ingest an entire metropolis. kim managed to maneuver her brand new toyota prius out of the jaws of the crazy manhattan drivers and into the garage of candice's building. we went out with candice to a fancy french restaurant for dinner, and i observed the wild gesticulaty conversation of the two guys seated next to us with great fascination in between my bites of duck.
despite the evil weatherman's predictions, the next day turned out to be a really great day! white pillowy clouds were just sauntering across the sky, birds were chirping, hot dogs were boiling, people were pissing all over the subway. it was a regular sunny day in new york city.
after a gorgeous breakfast at the diner opposite candice's apartment, we set off bright and early for times square, where we lined up with the hordes of cheap tourists at the TKTS booth for half price theatre tickets. ahh, cheap tourists. my own people. while we were in the queue, we were touristy tourists and took pictures of all the billboards and the nissin cup noodle sign, which has steam pouring out of the top. the miracle of the cup noodle smoke was so amazing that i was gazing at that sign for a pretty long time, as if it would give me the answer to the meaning of life, and not a MSG-laden five-minute snack. after winding our way through the conga line of fellow foreigners, we got seats to see The Producers! mucho excitement was felt, and much jumping was performed on my part.
me, carol, times square and the most amazing cup noodle advertisement in the world.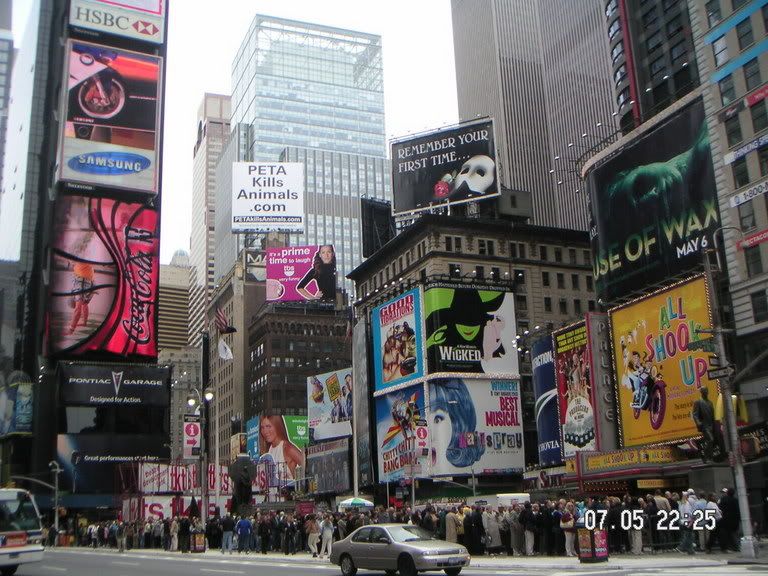 theatregeek heaven!
while waiting for our show to start, we popped into the stores around times square. first we headed to the gimungous toysrus, complete with ferris wheel with mr potato head, my little pony, jimmy neutron, and scooby doo carriages. we took some time to bond with the huge animatronic t-rex who obligingly roared for us periodically and waved his little hands around. we spent the rest of the time dashing around renewing our friendships with My Little Pony, the Cabbage Patch Kids and the rest of the old school toys that kept us from screaming our lungs out on long car rides when we were little. i am sorry to say that Polly Pocket is no longer pocket sized, and that she has been all whored up to appeal to the little girls who insist on dressing like britney spears. rest in peace, polly. i will always fondly remember how i used to lose you and your little midgety friends down the toilet bowls of my sunday school loo.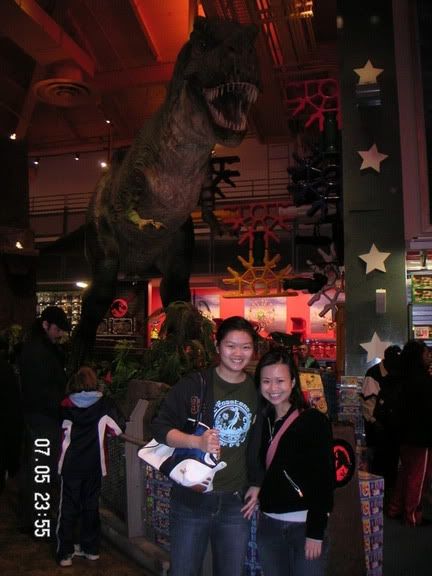 carol and me and our ferocious friend.
we popped into the hershey's store and inhaled a large amount of chocolatey goodness and bought a bunch of kisses and other chocolatey things that keep marie france bodyline in business. then we went to the mtv store, where i got a Hateypop tank top. we gulped down a couple of hot dogs before scurrying off to the theatre to watch The Producers.
The Producers was amazingly funny! i never knew there was a way to make fun of gay people, transvestites, nazis, swedes and the horny elderly in the span of two hours before! anyway, i know it's not the actors' fault, but i couldn't help thinking of how fantastic it would have been to see Nathan Lane and Matthew Broderick play Max Bialystock and Leo Bloom. Matthew Broderick has my heart. but we did get to see Roger Bart, the dude who plays the creepy pharmacist stalking Bree Van der Kamp on Desperate Housewives, play Leo Bloom onstage. go creepy pharmacist! you did good! my favourite part was when the dude playing Hitler sang his big number, "Heil myself". i can't wait for the movie to come out!
we walked around the Time Life building, Radio City Music Hall, and Rockefeller Center before taking the subway to harlem to meet jiayan and her posse for dinner at a mexican restaurant! it was awesome to see jiayan after so long, and she is looking good. i have finally met all the half naked people who surprised jiayan in her dorm on her birthday! they were completely unrecognisable with their clothes on.
rockafeller center. home to the solid gold funk soul brudda in the center of the plaza bringing down promethean flame.
after that we made our way back to candice's apartment where we took a cab to SoHo to go to Candice's friend's loft party. when the lift opens out onto the corridor of the apartment building, you really feel like you're back in a meat packing plant (which is what a lot of the lofts in SoHo apparently used to be). i almost expected to see large dead pig carcasses suspended from hooks. but when you open the rusty metal door and step into the apartment itself, it is a whole different ball of cheese. the ceilings in that place are so high that they would make Notre Dame shrivel up with jealousy. the rooms are all huge, and she has a built-in sauna and a rooftop garden. the rest of the night was spent making polite conversation and trying to escape from people long enough so that we could stuff our faces at the food table. it's not that i'm greedy or anything. but she had chocolate truffles, man. and strawberries the size of your fist! it is a huge shame not to feed off the rich. so that is what i did. i have fulfilled my destiny. the party was a really interesting experience! you know those artsy types you see in new york movies dressed in vests with arty plastic glasses, berets and goatees? they really exist. they are not myth. it was like discovering that santa claus, the tooth fairy, and those little dudes who have horse bodies are actually real.
on sunday, we had a lazy egg-laden breakfast with candice at the diner and lay around like old potatoes in her cushy bedroom giggling like little girls. after we managed to overcome the sunday morning inertia, we journeyed forth to Museum Mile to see the Metropolitan Museum of Art. we walked around egyptian art for a bit and inspected the suspicious looking black substances oozing out of the sarcophagi. the egyptians are amazingly advanced. they carve miniature cats and beetles the size of your little fingernail out of stone with incredible detail. it makes me ashamed of my shapeless brown spotted lump that i like to call my papier-mache dog. we finally located the Temple of Dendur, the thing that i was most psyched to see in the Met. when they built the Aswan High Dam, they realised that the temple would be completely submerged, so they decided to chopper the whole thing over to new york and stick it in a large air conditioned room where people can take photos with it forevermore. i've always wanted to see this room ever since i was seven and watched the "Sesame Street Goes to the Metropolitan Museum of Art" video and saw big bird waddling around in the temple room with a little egyptian priest who wanted to go to heaven. now that one childhood dream has been realised, i can now move on to bigger things, like striving to become a ninja turtle.
the Temple of Dendur, complete with ancient graffiti by delinquent archaeologists.
we hung around until the museum closed, then we had a walk around central park and watched the dog walkers, joggers, and two hundred million ipods zip by. apple : 1. creative : 0. if we had a central park, i would jog all day and be the most toned person on the face of the planet. of course i'm just saying that because we will never have a central park. but humor me.
carol and me in gorgeous central park.
trenchcoat lady walking bratwurst, liverwurst and salami.
another subway trip and we were at
serendipity
, where kim made a reservation for two hours later with the door diva. we spent those two hours walking around
Dylan's Candy Bar
with our mouths wide open trailing a steady stream of saliva all over the floor. being surrounded by chocolate and all sorts of sugary merchandise does funny things to people. you can get Dylan's plastic boxes with little candy scoops and fill them up with all sorts of things that are bad for you and take them home and feast upon them until you are glassy eyed and have a high enough blood sugar to rip apart your living room. carol was fascinated by the multitude of M&Ms and jelly beans, and i had to drag kim away from the Star Wars Pez dispensers. granted that it would be pretty cool to eat candy from out of Darth Vader's adam's apple, but US$20 was a lot to pay for Darth's head on a plastic stick. nobody dragged me away from anything, so i wound up buying a gigantic Dylan's tote bag, which i have to get some mileage out of in the next school year. kim bought me some chocolate! i love kim.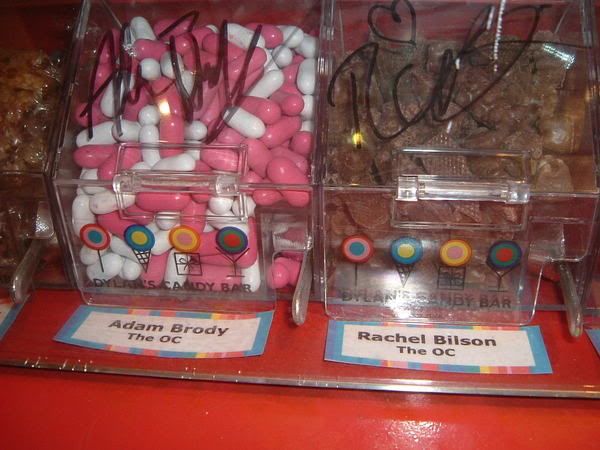 they had a whole shelf of the candy picked by the celebrities who had popped by the candy bar. and guess who we spotted? adam brody likes disgusting little liquorice pills, and rachel bilson likes chocolate gummy bears! girls and chocolate. we are destined to be together.
we finally got into serendipity after the expected long wait. the frrrozen hot chocolate is pretty much just a pure chocolate ice blended in a pretty glass bowl, but it was good all the same. if you don't want to endure the two hour wait and the door diva, get your ass to the nearest coffee bean and tea leaf. but the desserts were pretty damn good! we got a coward's banana split and strawberry cheesecake sundae, which are shown below before we ripped through them like tasmanian devils off their ritalin.
we survived the door diva. this is our reward.
on monday, we visited ground zero and observed a moment of silence for the many who perished on september 11th. i remember we were taking our Amath O level paper that day, and i had no idea that bigger things were going on in the world besides our ability to cross multiply.
we headed over to castle clinton in battery park, to take the ferry to the statue of liberty. the rasta rubberman performing next to the ferry queue is still doing the same fold-himself-into-a-box act that he was doing on our sec3 USA field trip. carol who did her research got us on the scenic sides of the ferry (right on the way there, left on the way back) and we got great views of manhattan while enjoying the sun in our faces and the wind in our hair. the poor confused immigrants and huddled masses who were on a slow boat to america saw the great green lady and saw freedom and a better life. shortly after that they were herded into little pens on Ellis Island and had their armpits checked for lice, before they were chucked into roach-infested tenements in the boroughs of new york city. ahh, freedom. it is a beautiful thing.
"give me your tired, your poor, your huddled masses yearning to breathe free!" - emma lazarus
when we got back to the apartment, we watched The Day After Tomorrow and saw Candice's work building freeze up! we were waiting for her apartment building to get covered by a bunch of ice, but it never happened. she invited us up to her friend's penthouse where we took a bunch of pictures of the amazing view and had a good time watching 24. it was the episode where they assasinate the chinese consul, and me and carol were amused that all the chinese dudes in the show were speaking mandarin with an american accent.
sunset over jersey.
we were sad that we had to leave new york and candice, who is a really awesome, hilarious person and an amazing host! i'm so glad i got to meet her and stay in her gorgeous apartment. she showed us a side of new york that we would have never gotten to see otherwise. kick. ass. i will miss the sofa bed and being able to smack kim in the face under the pretense that i am asleep. in a state of intoxication she promised us that we could stay again if we were ever in new york! ha hah! come stay with us, candice! there's nothing to do here besides eat and shop, but there is also nothing more fulfilling in life than to eat and shop!
this has been a really long post. i will continue the philly posts another time, but now i have to go shoot the rioting gorillas outside my house and eat lunch.
| mando | 5:36 AM

-------------------
Tuesday, May 24, 2005
yesterday i went for another Operation Theatre rehearsal, during which i rediscovered that i am possibly the worst dancer in the world. my left leg keeps making devious plots to trip up my right leg, and my arms are in complete ignorance of each others' existences. i also have to make it a point to stop moving like jabba the hutt when i am onstage. i can't say why, but jabba's body language really ruins a scene's dramatic effect. nevertheless my director and everybody in the cast are really amazing people, and the next two months are going to be a bunch of fun! probably a bunch of extremely bruised fun if i keep falling down during dance, but i can probably bring myself around to the idea of masochism pretty soon.
after rehearsal and a long period of being trapped helplessly at the arts fac, i met liana, lynn, zhongyang, daniel, nat, jean and denise for supper! all of them had just finished a beer and pizza session with the dean, and they helped me takeaway a whole pizza! i am overwhelmed by the love and the large amounts of mozzarella cheese. needless to say i had a very satisfying supper. we finally escaped from the wasteland of nus in a convoy of cars belonging to liana, zhongyang and nat. i kept pretending to check whether nat was still bringing up the rear when actually i just wanted to cast covetous glances upon her brand new blue-and-white, union-jack-bedecked mini cooper! if i were a catholic, i would still be doing penance for that moment of covetousness on my eighty seventh birthday. it was so beautiful that all of us basked in its radiance in the esplanade carpark and took a few pictures with it before we finally gave in to the hunger and headed to glutton bay for supper.
glutton bay is one of those outdoor hawker stall aggregations where you eat in the open air and marvel at how there are no stars whatsoever in the singaporean sky. we joined forces to demolish zhongyang's intestinal orgasmic hokkien mee before we realised that the mr makansutra man was sitting at the next table. i later realised that he was the one who opened glutton bay in the first place. he took a picture with us and had an animated conversation with us and the adorably enthusiastic nat about food. here are some quotable quotes from mr makansutra man.
"when i opened this place, everyone asked me, why no umbrellas?? later rain, how? i said, rain, then you run lah!"
"you scared rain, when you buy char kway teow, first you must look up. look up ok already, then you must buy the char kway teow."
life lessons, everyone. life lessons.
| mando | 6:04 PM

-------------------
Monday, May 23, 2005
we are back from malaysia, safe and sound thanks to our resident papa dehan! or as lynn said, our father cock instead of mother hen. the nus team put up a valiant fight against the university malaya team, and upheld our rich tradition of losing to them! jokes aside, the nus team really played well and we had a great time bonding over nasi pattaya and dunkin' donuts. master daniel the yoda won men's table tennis singles! daniel's arms, they are moving like the wind! but daniel's face, it moves not! how does he do it? it is one of the great mysteries of our time. huiyu won badminton women's singles, and we got the touch rugby trophy too! go nus!
our malaysian hosts were the epitome of graciousness, and they even drove all of us out to check out the nightlife at ungodly hours in their adorable kancil cars!
our drive down was a bunch of fun. we got a super nice bus. the bus felt like it needed to officially declare this to the universe and beyond, so it had "super nice bus" painted on its sides. me, denise, lynn and weesoon played taitee and got warmed up for munus games by bending down to retrieve fallen cards from the floor. we had a couple of rest stops along the way, for us to (as my grandma would say) "eat things and pass water". i have discovered that malaysian rest stop toilets are the sole reason that capri pants were created.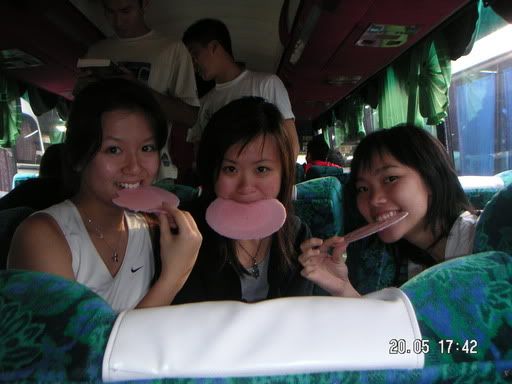 our super nice bus, with seats big enough to hold one moses lim and an extra grasslands tour company travel bag. we satisfy the munchies with rice flour frisbees.
my roommate yingci! together we form the room 107 buy one get one free all you can eat mosquito buffet! yingci needs to get new jeans because they are full of little holes from malaysian mosquitoes who have mastered the art of biting through denim.
our malaysian friends! the girl sandwiched between liana and me is phooi leng, guardian of the girls. she walked out with us and wore out her left hand flagging down 10 cabs for us on saturday night so we could go to the megamall to watch star wars. she is also the official procurer of the hot commodity known as toilet paper. many thanks to our wonderful malaysian friends for making sure we were always safe and weren't abducted by rogue taxi drivers to remote plantations to tap rubber!
| mando | 7:56 PM

-------------------
Wednesday, May 18, 2005
we are back! it is nice to be back and giving my family and friends warm and sweaty hugs in the tropical island of singapore! my computer decided to commit hara-kiri on the second last day of the trip, so i couldn't write about our awesome time in new york. nice groggy mr fujitsu support dude is currently fixing my computer, so more photos will be up as soon as he gets done! what we would do without the nice groggy fujitsu dudes of the world, i know not.
anyway, before we left on our girls-gone-wild trip to new york, my awesome aunt had her birthday bash at the Copa Banana! the Copa Banana, a branch of the place where Karl works, is a nice restaurant/bar with plastic coconut trees swaying peacefully in the breeze of passing cars. my aunt just turned a glorious 60, and in her 60 years of life, she seems to have amassed an enormous number of friends who unabashedly smooch visiting nieces, leaving wicked red lipstick marks on their faces; and who happily celebrate 60th birthdays with her by draining glasses of margaritas and presenting her with huge smoky topaz rings! my aunt had a great time with all her friends, and we all enjoyed her monstrous birthday cake. i met her best friends Louise and Wanda, and a husband of one of her friends, Tom. we were supposed to go on the Today Show in new york and hold up a sign that said "hi Tom Bell", but we forgot all about it while gorging ourselves on hot dogs. hopefully tipsy tom remembers nothing about that.
"you don't know it, but after i'm done cutting this thing i'm licking it all over so yall can't eat any of it! ba-hah!"
karl took us out on tuesday again, and he took us to Dave & Buster's, the local giant entertainment center. he bought us a bunch of video game credits, so we all had fun battling the undead with plastic guns and driving around in the land of naboo for awhile, and karl who is the king of the claw won us a bunch of stuffed animals. the rainbow coloured monkey i am holding up later got run over by a car outside Kim's friend Liz's house, and Liz's boyfriend had to get up out of bed and go monkey hunting up and down his lane with a flashlight. the monkey is currently covered in tire tracks and has lost both his eyes.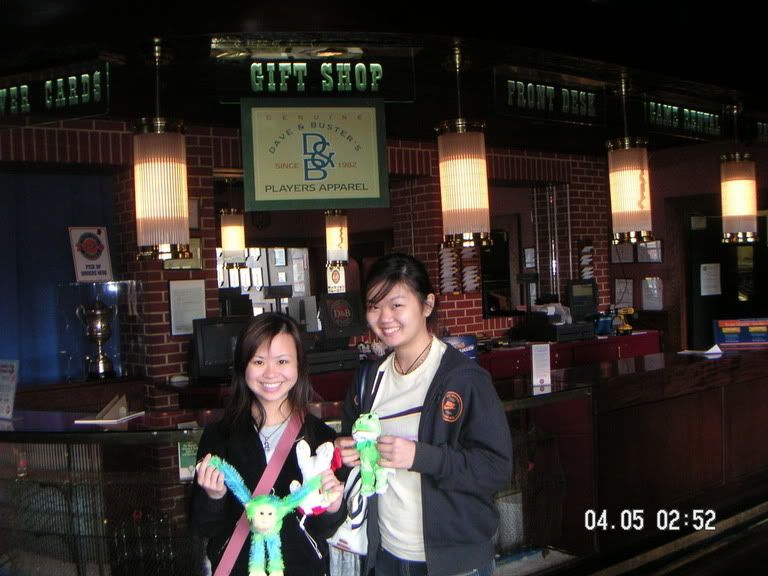 eyeless monkey thought he was headed for a better life after he was chosen by the divine claw. life is cruel.
then karl took us to penn's landing where we walked around inside a submarine and a ship called "Olympia". one thing i learned after crawling around inside that little metal cigarette butt was that you really should join the navy if you like sleeping in beds the size of matchboxes and you're really keen on the 0.01% chance of survival should a bad guy decide to poke a hole in your submarine. there is one escape hatch for about 35 men, and it is located nearest the officers' private quarters, which are the size of juice cartons. while squeezing through the tiny doors that lead from one room of the submarine to another, i have learnt that if you really have a death wish, you should wear tight pants onboard a submarine. i imagine that you will be honoured in the darwin awards forevermore.
join the navy and enjoy the sheer exhilaration of sleeping right next to the torpedo tubes and gunpowder supplies!
carol and karl and a bunch of hammocks on board the olympia.
later karl dropped us off and we met kim in old city to go watch Kung Fu Hustle at the Ritz cinema. it's really odd to be watching a chinese movie in america and you're laughing at everything and beyond when the whole cinema is deathly silent.
after watching people send out giant buddha palms on Kung Fu Hustle, we went to meet kim's cool friend, liz, for dinner. we went to this place called The Continental, which serves fusion food. we had chicken skewers and noodle fries, which are skinny fries shaved from the longest potatoes on the face of the earth. but more importantly, we had a cute waiter called Tom. below i present said cute waiter.
god bless the pretty man who bring the chicken skewer!
caroline, me and the wildly funny liz, whose height is of Lakerish proportions! i hope that if she comes here to visit, i will be able to put the lengths of two beds together so she can get a good night's rest.
i leave you with a word of wisdom from Mr John Yi of the John Yi Fish Market at Reading Terminal Market.
doubt not the man who sells the three foot long king crab legs.
| mando | 7:49 PM

-------------------
Tuesday, May 10, 2005
i just got a week's worth of posts deleted before i left for new york, but it is ok because we are now back from new york and we have had the most kickass time in the big city ever! we are running off to university city now to eat cereal and head off to the museum, but more updates when we get back! in the meantime, give in to the jealousy. just give in.
| mando | 6:21 AM

-------------------