Monday, February 13, 2006
recently even more people turned 21! congratulations to huiyi and ghim on their entries into adulthood! entries into adulthood are fun, because they give friends a chance to meet up to celebrate the birth of some nice people. ghim organized a class gathering at cafe cartel, and huiyi had a chalet at aloha loyang, and it was one of the most fun times i've had in awhile playing the "dying at 99" game, bullying luohan, watching huiyi bustle around being a wonderful hostess with her sparkling teeth (no more braces! the true mark of maturity!), and just having a good, completely stress-free time with the judo girls.
owing to the large amount of knowledge i am currently required to squeeze into my noggin and then promptly forget, there will be a lack of posts until my brain is no longer required to learn all about itself. i would try to make studying more efficient by writing the facts out on a piece of paper, burning it, stirring it into a glass of orange juice and drinking it, but recent studies say that may be carcinogenic.
i have already begun to assume the role of "dull homely nerdling". as a dull homely nerdling, i am incapable of producing a readable blog post, and thus will cover this up by sticking a bunch of pictures in here!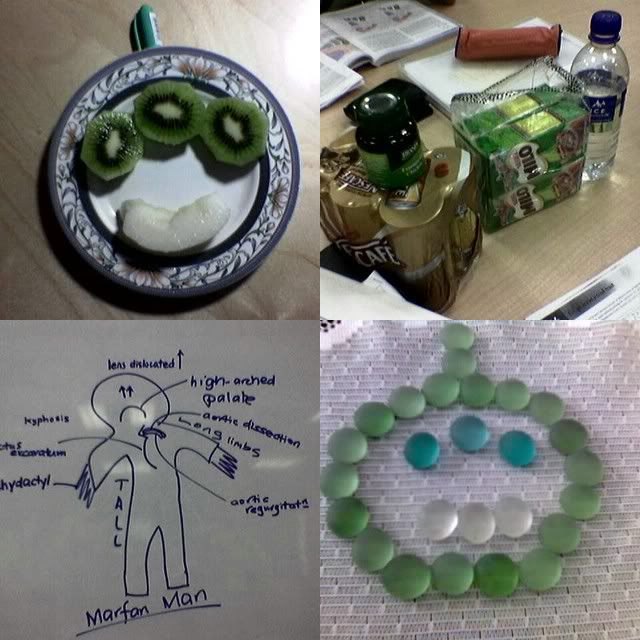 my edible rendition of the toy story alien; how yama scores on exams; a pleasant surprise awaited us on the whiteboard in seminar room m3 : do you know the Marfan Man, the Marfan Man, the Marfan Man? ; ian's artistic rendition of the toy story alien.
jean presented me with my belated birthday present today! it's so kick ass! i have to show the world.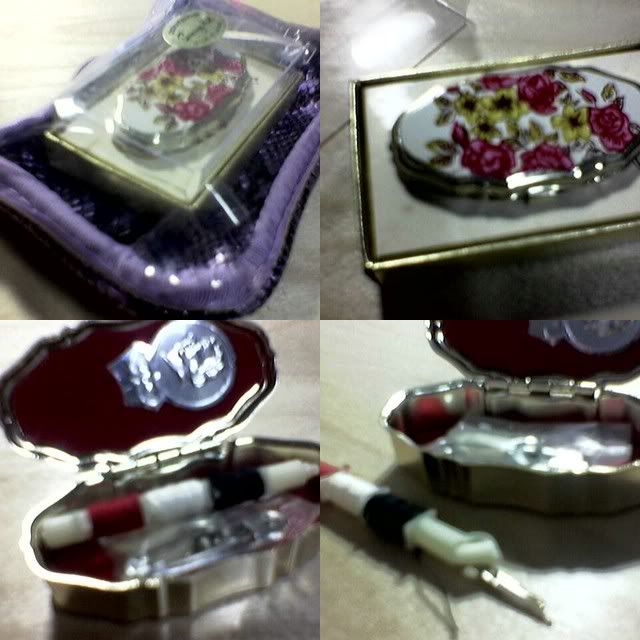 1) jean, with the holy light from above shining upon her, hands me a gorgeous purple snakeskin purse full of goodies!
2) hmm. it appears to be a beautiful yet tiny coffin, for a prepubescent hamster, killer bee, etc.
3) behold! the coffin in fact houses the still silent body of a needle threader, and the remains of a spool of thread!
4) the spool of thread opens to reveal that it is in fact a quiver of needles! there you have it folks! a handy acupuncture kit with which to cure your friends holistically, anytime, anywhere! thank you jean! it made my day!
| mando | 3:56 AM

-------------------
Friday, February 03, 2006
thus endeth chinese new year, the season of celebration of the existence of the mandarin orange, the plastic two dollar note, and little relatives who insist on jumping on you as if you were a cheap bouncy castle. this year was filled with fun house visitations and a whole load of gatherings with friends! first to hsienmin's house which contains a tiny innocent affectionate floppy eared boy puppy named muzzy, and a hulking murderous fearsome ferocious black girl dog named belle. muzzy is turning out to be a very henpecked child bridegroom. hsienmin has to chain him up away from belle so that while trying to smoke the pipe of peace with belle, muzzy does not incur the loss of his cute little head. i imagine that if he and belle were put together to reproduce, they would do it in true black widow style with belle ripping one of muzzy's little legs off while smoking a post-coital cigarette, and belle would birth forth puppies with multiple personalities.
me and carol, the easties, also journeyed forth to the forbidden north a lot this festive season. me, ian and wayne went to lynn's house to see aunty and uncle foo, brother foo, and new addition to the family, small white hamster foo. small white hamster foo narrowly escaped having his appendages pulled off by curious little foo cousins during reunions in between the games of taitee. lynn made us a really really good oreo cheesecake. i applaud the culinary abilities of lynn, and hope that through this shameless sucking up she will continue to feed the bottomless pits that are our digestive tracts with more of her lipsmacking creations.
the next day, me carol and lynn headed to wayne's old school peranakan house to attempt to put our feet on wayne's pillows, bend the needles on his turntables, devour his haagen-daaz bars, and make fun of wayne's multiple handkerchiefs folded neatly in his cupboard. we accomplished nothing from the list above except the last item on the agenda. wayne, once again accumulating some good car-ma like the nice guy he is, drove us whiny girls out to casuarina curry for a good time of prata and ghost stories.
saturday was nat's chinese new year party, where all of us had a blast! we were just hanging out in the rooftop garden and embarrassing denise's brother with hilarious den anecdotes, while marvelling at how the vadai chef managed to cook and still retain all ten of his fingers. nat's a fantastic host and so are her parents. her house was bursting at the seams with smiling people and squeezable little toddlers, and the best satay and vadai i have ever eaten.
after that was toh han's 21st birthday chalet! happy birthday to toh han, who is currently tiptoeing towards twenty one. she looked so pretty in her floaty dress! may adulthood bring you only good things, and if there have to be some bad things in the mix, may you always have a hand to hand you a tissue and an arm to put around your shoulders!
one by one, we're all crossing the line between angsty teenager and mellow adult, much like a drug dealer hopping the border into mexico to escape the feds. we're all growing older, and soon the next lines we cross will probably be the ones appearing on our foreheads which we will busily inject ourselves to remove. on sunday, God called to our attention the importance of making something of our lives. i don't want to waste my life feeling upset with people, or wallowing in my own uncalled-for self-pity and have to tell God that i was using the precious time on earth he gave me to get annoyed with things that shouldn't matter if i truly want to love him and put all my faith in him. on a gravestone, there's always the date someone's born, followed by a dash, then the date they died. and yesterday set me wondering what those people did with their dashes, and what i will do with mine. will i serve God, make a conscious effort to grow daily in him and do his will for my life by loving people as he has loved us, or will i just settle for behaving the way the world expects me to behave? am i strong enough to follow him? yet not my strength can accomplish this, but God's strength. and that is more than enough for anyone.
| mando | 4:59 PM

-------------------