Monday, April 24, 2006
i am back from austria, where there are apparently no kangaroos, where nuns run fast and wild and free, where mozart's golden balls litter the streets and cascade from shop windows, and mozart turns in his uncharted grave at the fact that in spite of all the royalties due to him from them sticking his face on every single smidgen of souvenir tat in salzburg, he still can't get a decent burial because nobody can find his body.
but before i do a proper post on how absolutely divine austria is, i have to mention that all the year 2 medical students of the highly reputable and respected yong loo lin (the esteemed benefactor of our medical school, for those wondering if there was a particular president of China who they had never heard of before) medical school have recently been plucked out of our comfortable little lecture theatres and have been methodically stuffed into hospitals all over the country.
we started galumphing around hospitals on monday, the guys in smart black leather shoes and the girls tottering around in little heels, learning all about how to wash our hands until we discover our knuckles to be devoid of skin! the first week of clinics has been an eye-opener, because we learnt all about the right and wrong ways to communicate with patients, and because even though we haven't talked to that many patients, each person that we've talked to has his or her own story to tell regarding their misfortune or otherwise. teaching students how to communicate with patients may sound a little like teaching a monkey how to peel bananas, or teaching a ten foot tall grizzly bear how to maul lumberjacks, but it's harder than i ever thought it would be. and i'm glad we had great doctors teaching us those things, doctors that you felt you wanted to model yourself on. it is a little strange though, to be taught all that is good and pure on one day, and then see all the good patient communication skills systematically mutilated in a series of consultations on the next. and i can see how in a mad scramble for time to make sure patients aren't kept waiting until judgement day, communication skills are traded in for efficiency. i guess in certain settings its possible to reconcile theory with reality, but not so much when you're sitting in a little room surrounded by files, trying to make the red analog numbers outside your office jump as quickly as possible.
while wandering around the hospital trying to be as little of a nuisance as possible, you see wonderful doctors, good doctors, not so good doctors, elderly patients complaining about life, young patients wondering why in the name of several incan peacock-headed gods are they in hospital, you realise that one day, you could be any one of these people.
communication skills are so more important and so much less of a given than i ever thought. no matter how friendly and personable you are naturally, there's always something you miss out or something you're doing wrong when you talk to a patient. you're either getting all the information you need and making the patient feel like he's stuck in a really hard oral exam while he's supposed to be on mc, or you're talking too much coffeeshop talk with them and learning zilch about why their abdomen is the size of a killer whale. and to practice communication, we have to scuttle around the wards waiting to pounce on a friendly-looking patient, and speak calmly to them while they cough up great strings of green phlegm. i feel like a annoying little germ-riddled cockroach in a white coat and lanyard when i do this. because if i were a patient sick in bed with tubes stuffed up my various orifices, and if ten little snots identifying themselves as medical students wanted to ask me why i was in hospital, i would feel like ripping out my own IV line and stabbing them repeatedly with it. thankfully though, most of the patients we've approached have been pretty obliging, and no medical instrument-inflicted injuries have been sustained thus far.
newbie clinics has also been an eye-closer, because we go home at 6.30pm every day even though we don't have to, and when we do get home, we can hardly muster up the energy to do important things like chew our food, use proper grammar in our sentences, or perfect our voice impressions of eric cartman. i suppose from this moment onward, we can expect our lives to start changing for the tireder, although much more interestinger and enricheder.
it's something new for us to, at the end of the day, see the guys struggle to unleash themselves from suffocation-by-necktie, and the girls to start ripping open packs of plasters for blisters on their feet. it's something new for us to have to see our loved ones less, or put in the extra effort to get to see them enough. it's also something new for us to commisserate or teach each other how much or how little we've learned, tell each other stories that make us split our sides, and share in the experiences that are still exciting and still make our hearts beat faster. and so far, i kind of like it.
and in any case, now that i know the beginnings of how to palpate an abdomen, i can rest easy in the knowledge that even if i drop out of med school there's still a chance i can still make an honest living in batam as a masseuse.
| mando | 10:00 AM

-------------------
Wednesday, April 12, 2006
i am leaving for vienna! tonight! my mom and i are going to have 9 days worth of absolute confusion by german terms ending with "hoff" and "bahn" and "strasse". we are going to dance with elation in cobblestoned streets around piles of horse poo-poo fresh from the arses of horses drawing viennese fiacres (this may sound like a naughty word, but it's not), we are going to climb up a bunch of mountains and do some yodeling, we are going to conduct philosophical arguments in the coffeehouses where Freud decided that loving your mother too much is bad. complex, but true. i will be back on the 21st of april, with useful newfound knowledge such as Eidelweiss is not really the national anthem of Austria, and also a newfound Arnold Schwartzenegger accent.
my 3rd aunt just got back from visiting my Tua Ee and cousin Kim and Karl and Vanna in philly! Kim, the pinnacle of indie cool, got me some really interesting things. lookie here!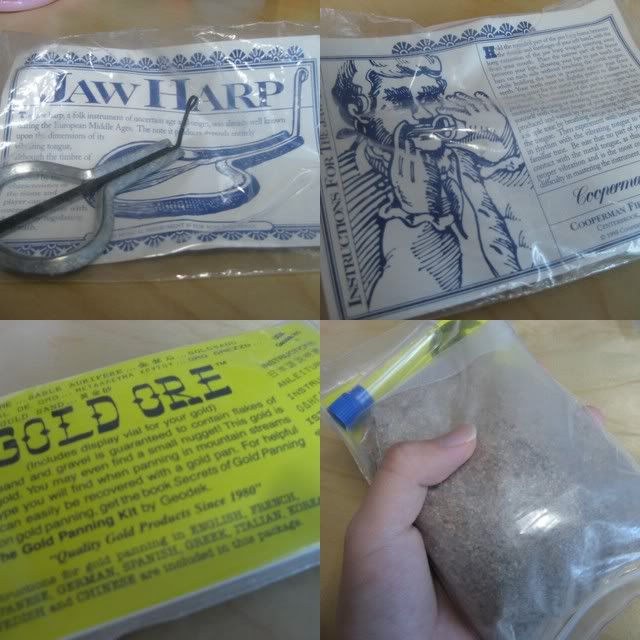 I told Tua Ee that i bought a jaw harp from WOMAD made of bamboo, and Kim thoughtfully bought me a really cool american jawharp! you know it's american because it is made of metal instead of bamboo, and because the picture on the back of the packet has a man in a white curly wig twanging away at the jawharp to the tune of "Star-Spangled Banner", instead of a toothless smiling Cambodian elder playing "Nine Million Bottles of Angkor Beer on the Wall" in Khmer.
She also bought me a bag of gold ore, a do-it-yourself gold panner kit, which i will be happily panning through for enough gold to finally get that snazzy tooth filling i've always wanted! i love 'em! muchas muchas gracias, kim!
ian and i went to watch
Rent the movie
yesterday, and i never thought i'd ever be this much of a Rent-head, but i am. it's one of the best movies i've watched all year, the casting was absolutely perfect, all of the principal characters were so endearing, the soundtrack is awesome, and the way they incorporated all the songs and choreography without making it look over-stagey or artificial was just a stroke of brilliance. at La Vie Boheme i just wanted to get up and dance! Rosario Dawson was the perfect Mimi. In your face, karen mok! it's funny, heart-warming, and the staging is beautiful. it's not outdated, the heart of the story, and each of the character's stories still manage to get you. watch it, if it's the only movie you watch all month. or all year.
do the bohemian boogie-woogie!
| mando | 3:46 AM

-------------------
Monday, April 10, 2006
on the 8th of april, fresh from having our brains char-broiled and frizzled upon the flaming coals of the m2 final exams, many of us gathered to witness and celebrate a very special occasion. together, with wisps of smoke issuing from our ears and rumbles resounding from anticipatory bellies, we swooped down upon restaurant Ember at Hotel 1929 to make big whoopee at the fact that our
darling nat
was finally 21!
the actual day that nat's mom popped her out of the womb was april 1st, but we were all busy learning about bugs that could give you spots and rather explosive diarrhoea at that point. so the sensible, studious and smartyfart nat decided to have her party post-exam, giving a good chance to let us release all our pent-up energy and reconcile ourselves with the real world where people don't spend twenty hours a day locked in loving embrace with a nasty textbook.
carol came to my house to get dressed, and carol in heels, tight jeans, makeup, nicely blown hair and a gold and white helen of troy top is, may i say, one hot hot mama! let me give you a demonstration of what a hot hot mama is. (picture stolen shamelessly from
the blog of lynn
)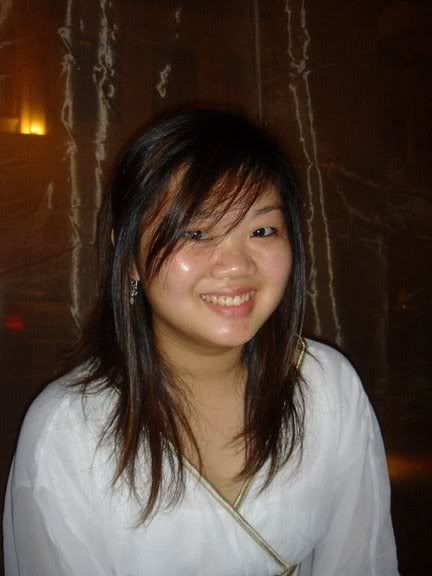 "ah yam purty and dont ah knowwit!"
we took a cab to hotel 1929 and we saw nat, looking fantastically gorgeous (even more so than usual) and va-va-voom in a orange-red dress, ever-perky and fresh despite having just emerged from the exams. nat's a fantastic hostess, be it at home at a chinese new year party, showing us the corners where the vadai uncles were sneakily hiding so we could get first grab of the food, or at an offbeat yet classy hotel, getting buckets of hugs and showing us to our seats marked with little gold namecards.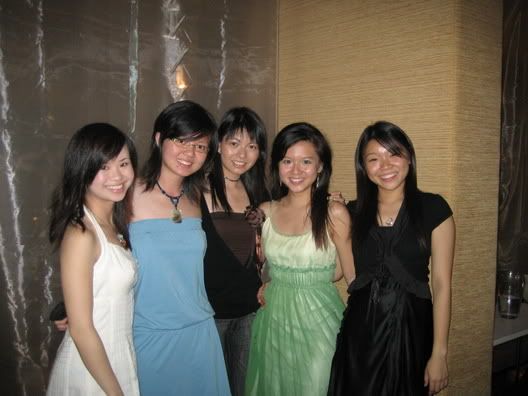 girls looking pretty : me, eleanor, shihui, lynn in her hominahomina cabbage patch babe dress, and denise!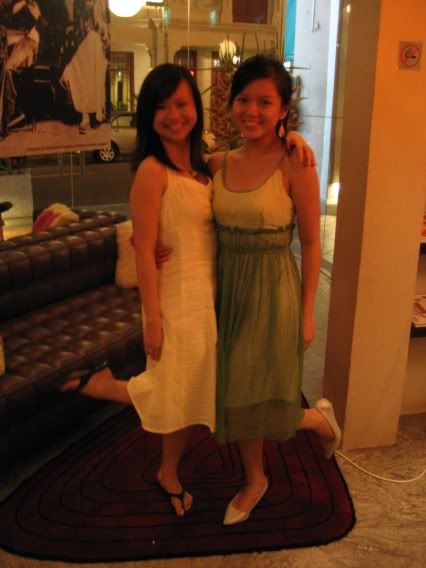 romy and michelle's high school reunion!
ian and i sat at a table with howen, bennyboy, shaan, gen, renita and nat's auntie channey (also known as auntie ahlian) to enjoy good company and a dinner which would almost be what i would choose as my last dinner on earth (except my last dinner on earth would have about four hundred dishes, including black pepper crab, five tubs of ben and jerry's, a giant juicy hoagie from WaWa and white wine mussels by the crate. The reason why it would be my last meal on earth is that i would blissfully rip my seams after the last mouthful and meet my gluttonous demise. but enough about that.) The menu was :
deep fried soft shell crab with wasabi aioli
~
pan seared scallops wrapped with parma ham, orange and tarragon vinaigrette
~
slow roasted maine lobster with lobster cream emulsion
~
pan seared chilean seabass with mushroom and smoked bacon ragout, truffle-yuzu butter sauce
OR
pan roasted beef tenderloin with veal cheek and spiced red wine jus
~
warm valrhona chocolate cake with vanilla bean ice cream
~
coffee or tea
a brief summary of the emotions experienced upon partaking of said meal :
oh mama can die can die.
being a greedy guest who attacks the dishes two seconds after the plate touches the table, i forgot to take pictures of all the dishes save the lobster sunbathing languriously in its own emulsion. here it is :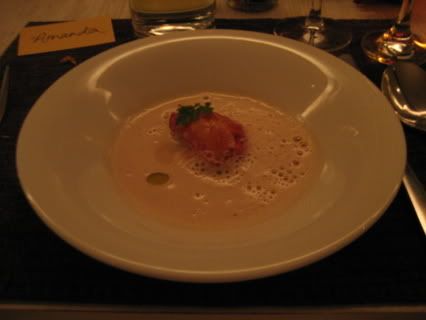 after the main course, nat's mom got up to deliver a very moving speech about how she had watched nat grow up, from a little wrinkled monkeylike neonate, to a cultured, musical, sock-choppingly violent little kid who took speech & drama, language, piano, ballet, swimming, and taekwondo classes (among others), into the beautiful, lovable, amazing person she is today.
as if that wasn't mascara-destroying enough, the carefully-defined eyes of all the girls present were subjected to another tearjerking speech by nat's dad (the tears were both laughter and aw-induced.) about his interesting experience attempting to breastfeed baby nat, and how much he loves nat. and then nat got up to make a speech of her own, and as she was thanking everyone who had been part of her life and had helped her every step of the way while growing up, all our eyes misted over. it's the kind of thing that you know every parent feels about his/her kid, and the way every kid feels about their parents, but sometimes goes unsaid, expressed only through an angpow pressed tightly into a palm, or through the best part of a fish ladled onto the other's dinner plate.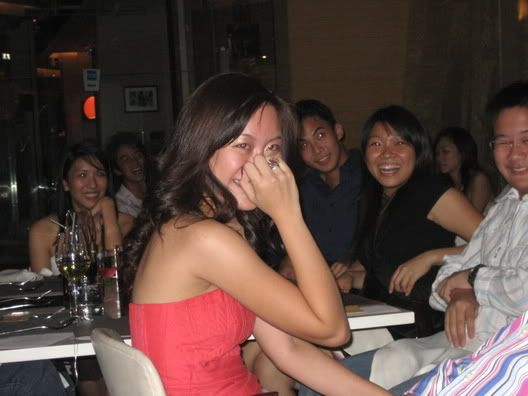 Nat highly tickled by her dad's speech.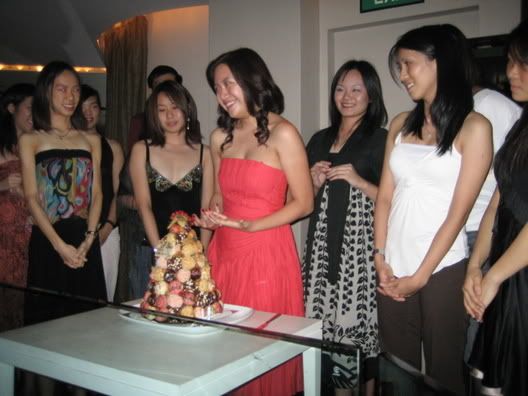 isn't she lovely? isn't she wonderful? isn't she precious? made of profiteroles! and nat ain't bad either! Nat making a very moving speech to all who she loves and who love her!
after dinner and the towering profiterole cake (which was just screaming "pluck me!"), we taxiied to MOS where nat had gotten the Perfectionist Room for a whole bunch of meddies to party in!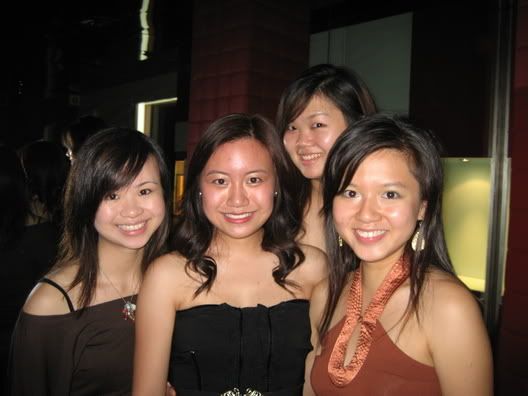 stylo mylo birthday girl flanked by party girls!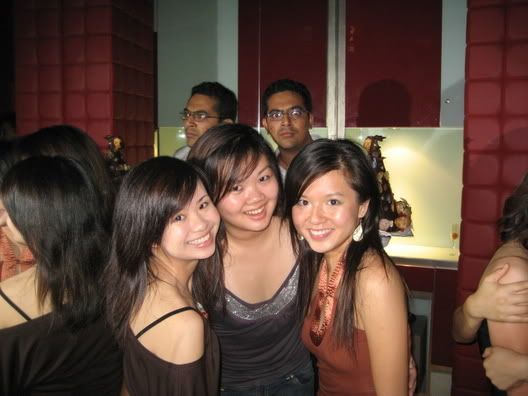 me carol and lynnypoo, ready to boogie!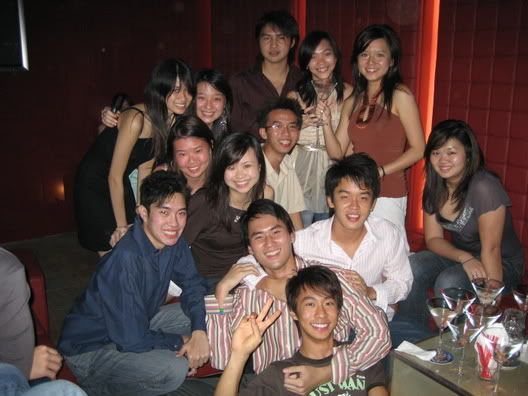 meddies in the Perfectionist Room, posing as if in publicity shot for The OC.
the night began with exploration of 54, Smoove, Pure, and the horrible trance dancefloor, and ended with the felling of drunken friends. in the words of zhongyang, "DRUNKARDS EVERYWHERE!" vomit wasn't for carol and me, after our pink puke incident in Philly, so still feeling fairly sober, i got to boogie with carol, lynn, dan, ian and wayne in 54 to disco! i discovered that all of us are smooth dancers except for tipsy wayne, whose drunken dancing is equivalent to goose-stepping and looking stoned. we all did The Wayne for awhile on the dancefloor, much to wayne's unamusement.
being able to run around a club with 80 people you know, with an awesome comfy room you can scuttle back to when your feet start to hurt or when you get tired of almost becoming a human ashtray, with yum drinks courtesy of nat, is absolutely fun and fantastic. on a regular basis, however, MOS isn't much to yell about. Smoove, the room with the best music, is jam-packed with a tessellation of human bodies with absolutely no crowd control at all. 54 was fun because you get to act all silly and nobody cares, but trance on the main floor was impossible to dance to. construction noise, as a rule, doesn't exactly make you want to get down and boogie (unless you're at a Stomp concert). the very pretty Pure, which is restricted to over 25s, meant that the room automatically filtered out all the people who could dance, and the room was filled with balding gwai los bobbing their bald spots on the dance floor.
but that said, it was a really really good night. we rediscovered what it was like to be young, to have a shakeable booty, and me and carol discovered for the first time what it was like to get home at 4.30am in a mercedes cab that had recently been vomited in.
thank you Nat for the unbeatable party! you are one of my favourite people, and i'm so glad we got to celebrate your entry into adulthood with you in such style. since i met you on the first day of anat lab in med school, you've been nothing but wonderfully good-natured, always quick with a quip, your energy brightening up a whole bunch of otherwise-awful tutorials where we were forced to learn the muscles of the backside. you're one of the most generous, giving, mature and understanding people i know, and i think emotionally and mentally, you hit 21 long ago. thank you for the friendship Nat, and thank you for you!
We love you Nat! (side note : Nat's a really good dancer.)
| mando | 6:46 PM

-------------------
Tuesday, April 04, 2006
after three CAs containing 6+2+5 tests designed to crush the spirits of young vivacious college students like pesky kitchen cockroaches, weeks spent in the library feeling our skin crack from the lack of humidity, and two final exams which numbed writing hands and bladders and the legs crossed because of the numbed bladders :
we are free.
free as a bird.
free as a polythene-bagged happy meal toy.
free as America claims itself to be.
free as a rampaging rhinocerous that mauled its zookeeper in a fit of boredom and thundered off to attempt to climb the empire state building.
free as a pair of double-stick-taped bosom buddies upon the chest of a hollywood star on oscar night.
now to get enough sleep to have the mental faculties to figure out what to do with all that freedom, and i'll be all set.
| mando | 8:10 PM

-------------------